SuperSloth Chose to Amplify Brand Awareness by over 200% – Efficient Crypto PR and Influencer Marketing
In this case study, we immerse ourselves in the intricate PR (Press Release) and Influencer Marketing tactics Cryptovirally deploys for SuperSloth. By doing so, we unveil the multifaceted strategies at play. Furthermore, we highlight the triumphant outcomes and deep insights secured. The necessity for robust crypto PR and influencer marketing becomes evident as we proceed. It's essential to recognize that effective marketing strategies are pivotal in the evolving crypto landscape. Ultimately, find out how SuperSloth successfully chose to amplify brand awareness by over 200%.
About SuperSloth
SuperSloth stands at the forefront, representing a community devoted to genuine decentralization, unparalleled security, equitable distribution, and creating a lasting real-world footprint. As it embarks on an innovative trajectory in DeFi, SuperSloth gears up to revolutionize memecoin initiatives in 2023 with the imminent introduction of its SuperSloth token ($SSLOTH). Strategically situated in Kingstown, Saint Vincent and the Grenadines, SuperSloth embodies the enduring essence of the sloth, an emblem of steadfast advancement. Within the oscillating landscapes of the crypto realm, this initiative promises unwavering stability and prospective expansion.
Crypto enthusiasts keenly await SuperSloth's debut. Recognizing the imperative of impactful marketing in such a dynamic space, SuperSloth decided to collaborate with Cryptovirally. Together, the aim is to amplify brand visibility, foster meaningful engagement, and ensure optimal PR (press release) and influencer outreach. With the right crypto marketing services and strategies, SuperSloth's vision will undeniably resonate with its target audience.
CryptoVirally's Strategic Blueprint
Awarded as the Best Crypto-Exclusive Marketing Agency in 2023, we meticulously identify the precise strategy for SuperSloth. During our in-depth exploration phase, we comprehend the project's goals, discern its target demographics, and recognize its unique value proposition.
Recognizing the importance of foundational awareness, we strategize for maximum exposure. Esteemed platforms and numerous mid-tier sites become the primary targets. Consequently, we engage powerhouses such as Bloomberg, Yahoo, and Benzinga, and others like CryptAdventure and CoinMarketCap, to list a few.
Given the turbulence in the social media domain, especially with figures like Elon Musk shaping Twitter dynamics, it's imperative to have a robust strategy. Therefore, SuperSloth seeks prime visibility on X (formerly Twitter) for organic growth. Leveraging our vast influencer connections, spanning over 5 years, we enhance SuperSloth's online presence, registering a total impressive 250K+ impressions, adding up 2 different tweets, in under 24 hours.
The total number of followers for the official X (ex-Twitter) account organically skyrocketed from 3.384 followers to well over 10.600 followers, in a matter of days.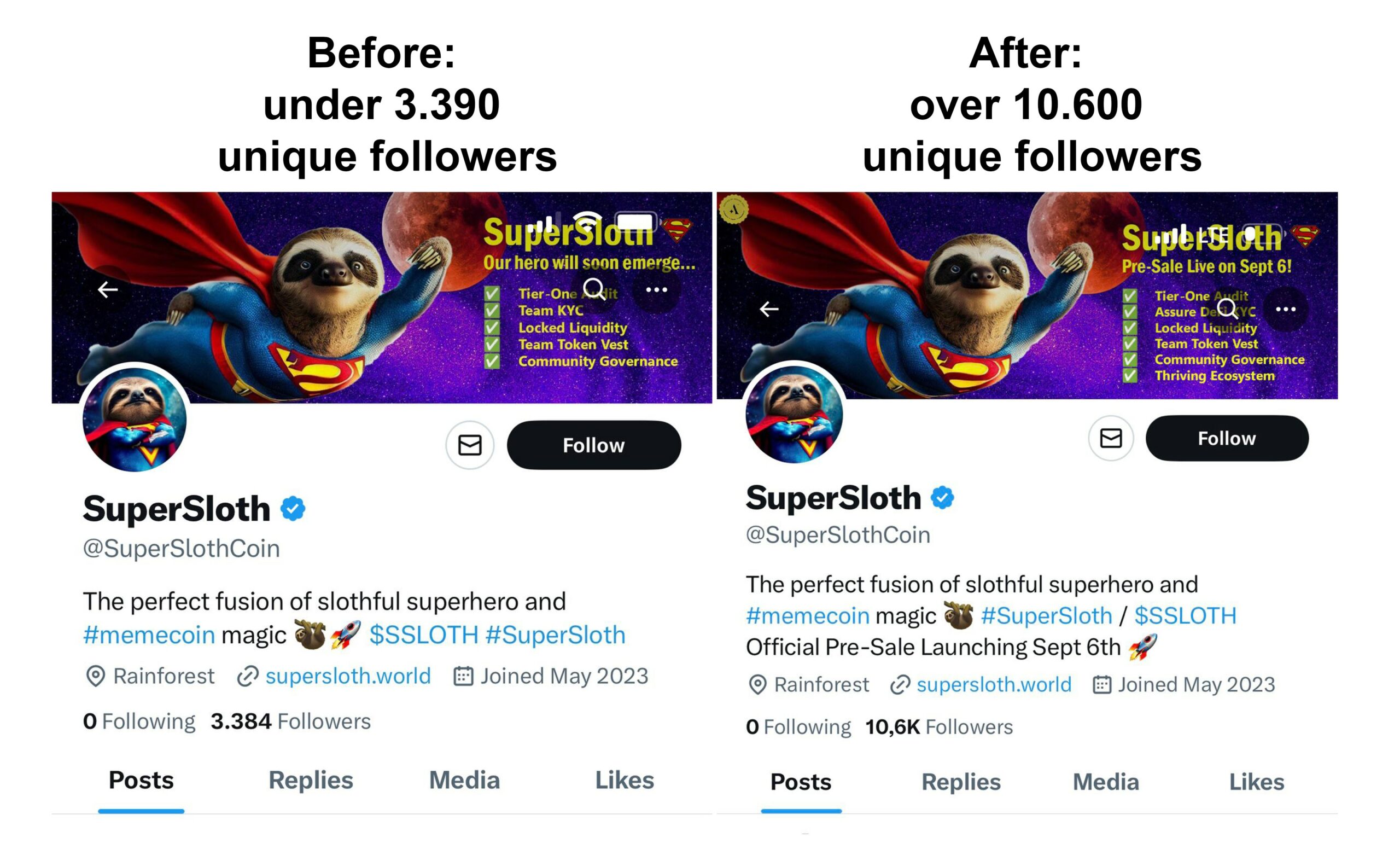 Powered by the experience and expertise of CryptoVirally, leveraging influencers to spread the word and successfully market your project can be easy. In the case of SuperSloth,  influencer marketing was a desired service. The influencers' total followers count successfully added up to over a staggering 35 million followers who have seen the project.
As a result, the week of the launch witnesses SuperSloth's tweets and site amassing a remarkable 320,000+ direct views. Thus, with the right crypto marketing strategies and services, brand recognition can see exponential growth.
Over 150+ Transparent Crypto Services by Cryptovirally
Navigating the vast realm of our 150+ crypto marketing packages often seems challenging. Therefore, to ease this process, we offer FREE consultations before any commitment. Once a decision is made, we prioritize client experience. Consequently, we appoint a dedicated Customer Success Account Manager after any order is placed. The CSAMs seamlessly guide and assist clients during our journey, ensuring optimal results and satisfaction.
Curious about the price tag attached to our services' offering?
Remember, mixing and matching packages promise additional discounts. Bundled services have an extend outreach, and the strategy behind the delivery of the services always brings added value to any project.
Takeaway
By partnering with CryptoVirally, SuperSloth managed to swiftly achieve:
Social Media posts with 250K+ impressions in under 24 hours;
Re-Tweets of 100 Micro-Influencers, totaling over 35 million followers who have seen the project;
Project Awareness increase, with over 325K+ views in the first day if the campaign;
X (Twitter) followers organic increase from 3.3K to 10.6K followers;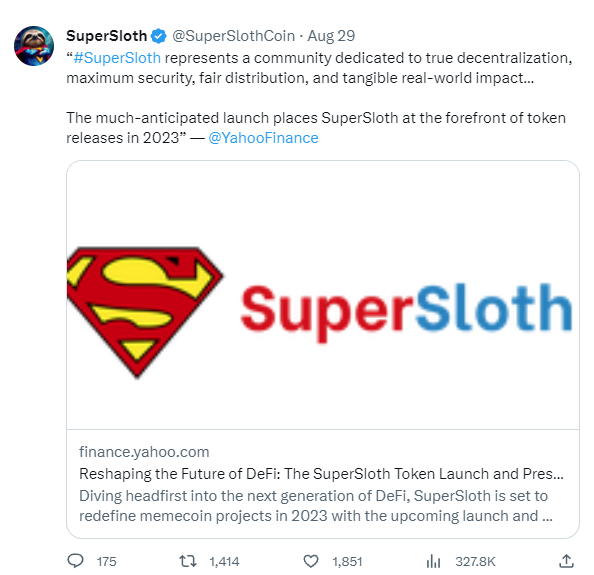 Following the success of the first campaign, the  SuperSloth team has decided to extend the collaboration with CryptoVirally. They purchased additional marketing campaigns and chose to steadily continue their marketing efforts to amplify brand awareness without breaking the bank.
When the customers' satisfaction is high, they will even go the extra-mile and publicly share their testimonial:

For newcomers to our platform, we present a vast array of 150+ ready-to-buy crypto marketing solutions. Delving deep into these offerings, you can discern the perfect fit for your venture. Harnessing our expertise, we stand ready to navigate your journey towards success. In the dynamic realm of crypto, the right marketing service can make all the difference. So, without delay, explore our diverse offerings at CryptoVirally and elevate your brand's presence. We're here to help you amplify your project's brand awareness.