RhinoX NFTs have taken the world by storm, achieving multi-million dollar milestones, thanks to the power of crypto marketing. In this exciting blog article, we'll explore the success story of Rh!noX by BinaryX and unveil the top-notch crypto services that propelled this incredible NFT project to new heights. Discover the expert, transparent, and detailed packages that have driven million-dollar marketing strategies, and learn how these techniques can help your project achieve similar success. Take advantage of this fascinating journey into the world of RhinoX NFTs and the crypto marketing strategies that made it all possible.
BinaryX
BinaryX is a cutting-edge crypto game platform listed on renowned exchanges. They have developed and operate the highly popular Play-to-Earn (P2E) games CyberDragon and CyberArena, built entirely from the ground up. As a prominent on-chain online game platform on BNB Chain, BinaryX boasts impressive statistics, including over 100k unique addresses holding the chain as of November 2021, a total token supply of 21 million, and a staggering circulating market cap of $540 million.
In early June 2022, BinaryX decided to announce the launch of its collection of non-fungible tokens: Rh!noX. A 10,000-piece NFT collection that allows holders to use the Rh!noX avatar on different GameFi and Defi applications on the BNB Chain.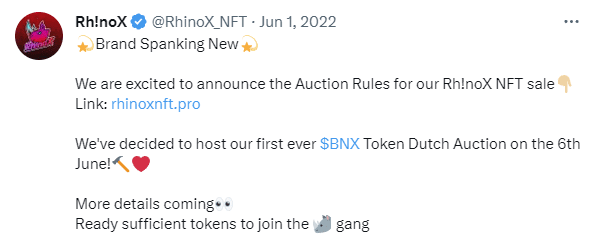 Discover how RhinoX, a remarkable NFT project, achieved unparalleled success by leveraging our crypto marketing services. In this case study, we analyze and reveal how "Rh!noX" by BinaryX, sold out their entire collection, totaling 10,000 NFTs, in just four hours. They successfully became the most traded NFT collection on Binance NFT during the Sale.
Unleash the Potential of NFTs with RhinoX
RhinoX is an innovative NFT project created by BinaryX that has taken the crypto world by storm. Rh!noX soulbound token holders will enjoy several benefits, including access to new GameFi tokens and NFTs on the BNB chain. Also, they will gain exclusive access to beta tests for games, NFT whitelists, DeFi projects, and unsecured credit loans. The series draws inspiration from the 'soulbound' items in the World of Warcraft universe.
In mid 2022, RhinoX released 10,000 NFTs and managed to sell them all within an impressive 4 hour window. This incredible collection generated around 10 million USD (equivalent to 79,000 BNX) in direct and secondary sales.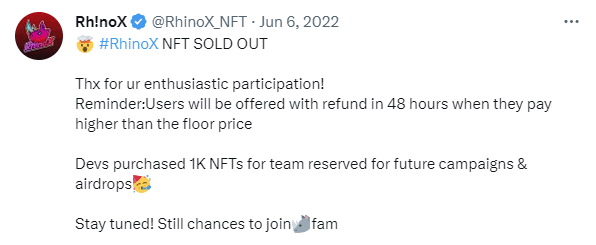 It all started with a solid foundation of project awareness, press release, media reach and viral marketing. Later on adding up bundled personalized packages on top of the foundation.
Achieve NFT Success through Expert Marketing Strategies
Expert crypto marketing services played a crucial role in the success of the RhinoX project. BinaryX opted for a combination of standard and personalized packages tailored to their unique needs. They chose to select steady weekly and monthly outreach, to guarantee the online presence of their project. These services helped RhinoX gain widespread exposure and a dedicated outreach to community members and newcomers.
As a result, RhinoX not only witnessed rapid sales but also achieved substantial trading volume across marketplaces.
The project's NFT collection crossed 1.5 million USD in total volume of NFTs traded across marketplaces for the NFT collection. (Binance NFT and OpenSea)
Gain Unprecedented Media Coverage
With our help, RhinoX secured coverage on prestigious traditional platforms such as Bloomberg, Nasdaq, Yahoo Finance, Yahoo News, Yahoo Money, Benzinga, MarketWatch, and Digital Journal.  We also guaranteed them coverage on prominent crypto news outlets like Cointelegraph, BeInCrypto, CryptoPotato, TheNewsCrypto, CryptoAdventure, NewsBTC, DailyCoin, CryptoNews, ZYCrypto, and Coinquora.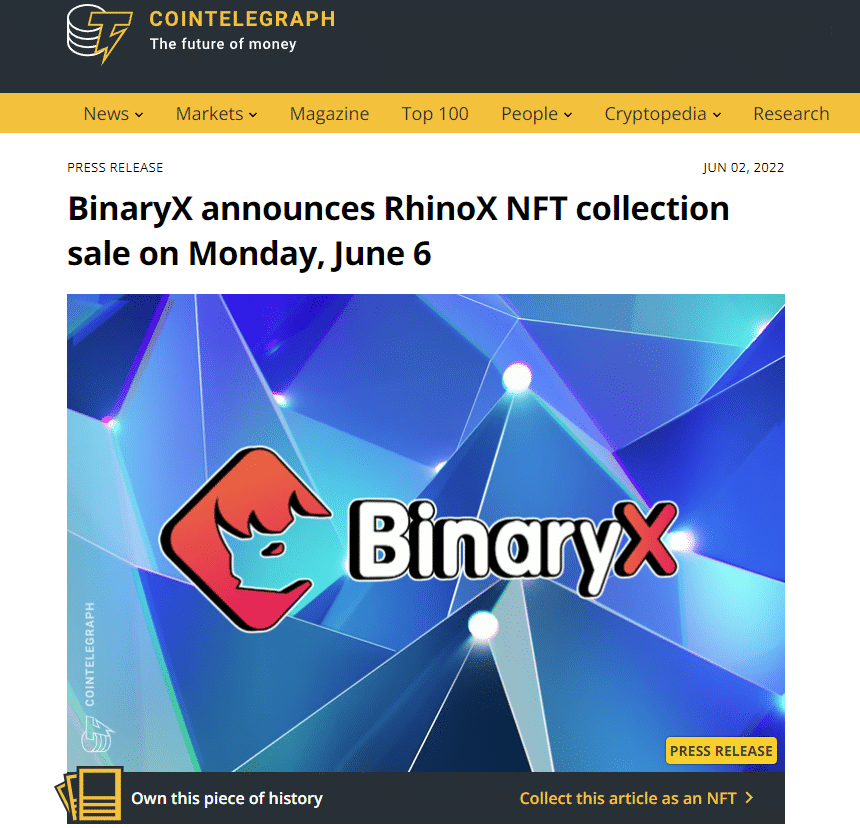 This extensive media exposure played a vital role in creating a buzz around the RhinoX project. It helped draw the attention of both crypto enthusiasts and potential investors.
This enabled both old and new investors to be able to do their own research (DYOR) and decide for themselves.
The Secret to RhinoX's NFT Sell Out
Because the market landscape is constantly evolving, providing the same services to the same project can yield varying results, depending on the timing and circumstances. Besides the existing market dynamics and sentiment, several clear factors contributed to the swift sell-out of RhinoX's NFTs. Expert crypto marketing services have the ability to harness the unique appeal of a project and transform it into tangible success. Here are some of the primary factors that BinaryX attributes to their remarkable NFT success:

Conclusion
The RhinoX NFT project's success story demonstrates the immense potential of expert marketing strategies in the crypto space.
To sum up the success of their journey, the numbers speak for themselves:
10000 NFTs SOLD OUT in 4 hours, in Dutch Auction
Nearly 10M USD worth of NFTs transacted
Achieved 1.5M USD trade volume in 7 days
Over 100+ detailed packages to directly choose from
100% transparent pricing
Unique article writing in under 24 hours
100% detailed reporting and transparent links for all publications
By capitalizing professional marketing services, RhinoX sold their entire NFT collection in a matter of hours. Also, they also managed to achieve an impressive trading volume in 7 days. With the right marketing partner, your project could be the next NFT success story.
Begin your own success story today! Start by checking our detailed packages with clear and transparent pricing, shared directly on CryptoVirally.com